High Volume Argentina Dove Hunting
When people ask us to explain what High Volume Argentina Dove Hunting is we simply mention that our guests shoot a minimum of 1000 rounds per day… per hunter. This is not an exaggeration, our hunters see tens of thousands of birds each day, many times there are so many within range that it is hard to pick a target.
Best Dove Hunting In The World
Our big sown plains, the rivers that furrow our lands and the large extensions of thick bush are the perfect habitat for the different species of doves that populate our country. From the little turtledove (zenaida auriculata) up to the big pigeon (colomba pica zuro), they are all here in massive quantities that are unbelievable to the foreign hunter.
Entre Rios
Entre Rios is a province in Argentina that is one of the most productive agricultural regions in the country. It has plenty of scrublands and water streams that provide the ideal conditions to sustain the highest dove density in all of Argentina, and this is where our lodge is.
We are located only two hours by car from downtown Buenos Aires and under three hours from the Airport. Our Dove Hunting Lodge is accessible from the city by a brand new four lane highway. It means that it is not necessary to fly domestic to get to a high volume dove shooting area anymore. The main advantage is that hunters can reduce costs and travel time which means they won't experience the usual domestic flight hassles like delays, extra weight costs, expensive connecting flight tickets, guns controls and so on.
Advantages Of Our High Volume Dove Hunts
Unlike most Argentina High Volume Dove Hunts our hunting grounds are only minutes from our lodge verses a 1-2 hour bumpy truck ride to the flyways. This offers our guests many advantages such as:
More time shooting each day
Go back to the comforts of the Lodge for lunch and breaks
Quickly change plans for the day
Non-Hunting Spouses and Guests are closer
Offers the option for 1/2 day hunts to spend time with Non Hunting guests
Hunting on day of arrival and possibly day of departure
Other Hunting Options Along With Doves
Our hunting area also features very good duck hunting during the appropriate hunting seasons (May to August). For our guests lucky enough to come during these times they can go get their limit of ducks (25 per hunter per day) and then go Dove Hunting in the afternoons.
Partridge hunting is also very popular. We hunt over dogs and walk the fields for these elusive birds. If you enjoy Pheasant or Quail hunting in your home country you will surely enjoy Argentina Partridge Hunting.
We also offer excellent pigeon shooting during the months when the crops are mature (February to May). Our pigeons are much larger than bandtails and are just as challenging to shoot.
Proximity Of Our Lodge To Buenos Aries
Lets face it, the hardest part of any adventure is the traveling. With all the check points, restrictions, and regulations going to another part of the world is stressful. And this is the exact reason that so many of our guests have selected our lodge as their destination of choice.
In most cases coming to Argentina to hunt requires the visitor to fly into the international airport at Buenos Aries. There they need to retrieve their baggage (this gets complicated with guns) and then take a taxi to the domestic airport, check in their baggage, and then wait for their next domestic flight. This exposes the visitor to a higher chance of baggage issues, flight delays, etc.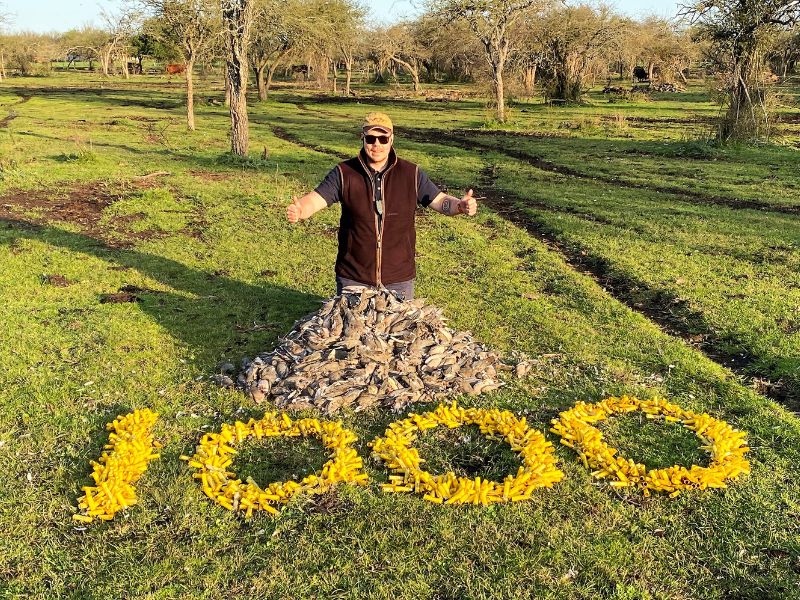 With us you simply retrieve your bags at the international airport and jump into our awaiting vehicle that will drive you directly to our lodge. I can almost guarantee that you will be shooting your first Dove while the hunter you sat across from on the plane is still on his domestic flight.
If you would like to inquire about the availability of a High Volume Dove Hunt at our lodge please fill out the form below. In most cases we will respond back to you within 12 hours to see if we can coordinate a time for you to come. Thank you again for your inquiry, we are honored that you are considering Argentina Big Hunts for your next adventure.