Wingshooting in Argentina
Avid hunters agree that the Argentina Dove Hunting is the best Dove Hunting in the world. A hunting trip to this South American country always exceeds the expectations of those who visit.
Argentina is a hunters paradise with its wonderful landscapes, first class hunting lodges, great food, excellent wines and of course great dove shooting. Argentina Big Hunting offers an unforgettable hunting experience.
Argentina Big Hunting's main bird hunting area is located in South East Entre Rios province because it is simply the best wing-shooting area of Argentina.
This region is known for its proximity from Buenos Aires, its prolific fauna, its unsurpassable environment and its deep respect for wildlife regulations which matches with our company's conservation policies.
This unbeatable Dove Hunting destination is strategically located just two hours by car from Buenos Aires city so there is no need for a domestic flight. It has the perfect habitat for not only Doves but all the bird species legally allowed to hunt in Argentina:
Doves
Perdiz over dogs
Ducks - more than 12 different species
Pigeons
Hare
This is a perfect place for mixed bagged bird hunting trips. We have endless marshes for Ducks, large natural plains for Perdiz & Hare, and blooming crops and thick brush for Dove and Pigeon.
We have some of the highest volume Dove roosts around Buenos Aires. Our hunters enjoy amazing hunting year round and shoot thousands of rounds of ammunition. During most days hunters will shoot 3-4 different types of birds.
Argentina Bird Hunting Itinerary
Day 1. Departure from home city to Buenos Aires, Argentina via late evening flight.
Day 2. Early morning arrival in Buenos Aires where your are met by staff outside customs. Van transportation provided to the bird hunting area in the Entre Rios Province 2 hours + drive. Enjoy a half day of bird hunting in the first afternoon.
Day 3 - 5. Enjoy three full days of bird hunting (either doves or mixed bag of ducks, doves, perdiz over dogs and pigeons).
Day 6. Enjoy a half day of bird hunting in the last morning. Transportation back to Buenos Aires and onto the International Airport for overnight flight to the USA.
Day 7. Early morning arrival back to US.
Species
These are some of the species you can hunt with us.
Argentina Bird Hunting Pictures
These are some of the unforgettable moments that we have captured on various hunts over the past few seasons.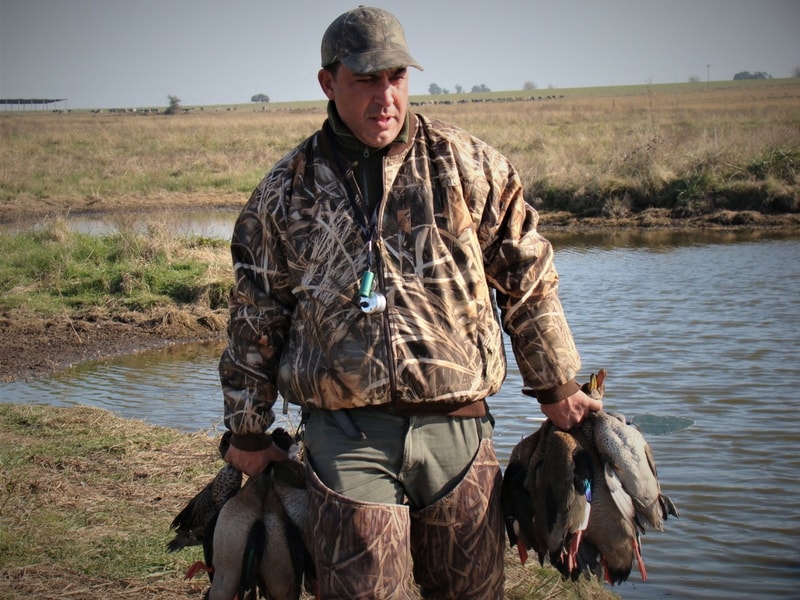 Cast & Blast!
Entre Rios province is one of the few regions in Argentina where sportsmen can combine Golden Dorado fishing and High Volume Dove Shooting from the same lodge. The Golden Dorado is a freshwater fish averaging in size from 6-22 pounds. The worlds record is 75 pounds. The meat of the Golden Dorado is delicious and the aggressiveness and fight of the fish is highly regarded by sports fishermen.
Argentina Big Hunting is proud to be one of the few Argentina based lodges that can combine the best dove shooting with outstanding golden dorado fishing in the same destination. We conduct our cast & blast activities in the Uruguay River for fishing and the dove roosts located nearby for hunting.
Since dove shooting is allowed all year round we offer Cast & Blast programs as a regular activity during the months that golden dorado fishing season is open. Give us a call and we will discuss the time of year that would be best to come along with the availability
Argentina Bird Hunting Lodging
Argentina Big Hunting offers world class accommodations and services in our bird hunting destinations. Our main hunting area is located in Entre Rios province where we manage a huge territory. That's why we offer different accommodations in different locations in order to keep the hunters close to the hunting fields and avoid long daily rides. Our flagship lodge is Santa Adela Lodge. It is a beautiful facility with all the amenities you would expect in a world class hunting facility.
Accommodations include a spacious living and dining room that provides a comfortable social environment with all the amenities that our guests deserve. Master bedrooms with private bathrooms, air conditioning, Wi Fi Internet, satellite TV and English language hosting are just some of the services that we provide to our distinguished clientele. Our chef prepares international gourmet cuisine featuring prime Argentinean wine & beef. And of course we have a well stocked bar with the only the best brands of adult beverages.
Would you like to know more?
You are welcome to visit our F.A.Q.'s to see relevant information like hunting seasons, included services and our terms and conditions. Of course you can also contact us through email and we'll be glad to answer all your questions.